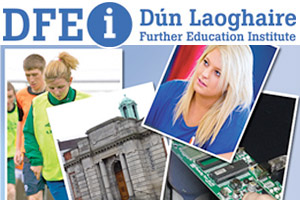 The Dun Laoghaire Further Education Institute (DFEI) provide a wide range of interesting and career orientated further education programmes for second level graduates and mature learners.
The array of courses on offer from the college provides a variety of study options and many of the courses offer a platform for those wishing to progress onto higher education.
There are a number of fields of study in operation at the DFEI, these are listed below.
Animal Health Care
Arts, Business and Humanities
Arts, Business and Humanities Security Option
Computing and Technology
Craft, Design and Construction
Community, Healthcare and Nursing
Media, Radio and Sound
Some of the courses offered within these fields of study are listed below.
Animal Care Level 5
Apprenticeship – Carpentry and Joinery
Architectural Technology and Design Level 5
Arts, Business and Humanities
Audio Visual Media Production
Business with Law level 5
Community and Health Services Level 5
Electronic Technology Level 5
Entrepreneurial Creative Craft Level 5
Furniture Design and Making Level 5
Health Services Supervisory Management Level 6
Healthcare Assistant Level 5
Higher National Diploma in Music Production
Information Technology with Networking Level 5
Journalism for the Digital Age Level 5 and 6
Musical Instrument Making and Repair levels 5 and 6
Nursing Studies Level 5
Office Administration Level 5
Public Relations, Marketing and Event Management Level 5
Radio Broadcasting level 5
Security Studies with Criminology Level 5
Security Systems Technology Level 5
Sound Production Level 5
Sustainable Building Technology Level 5
TV and Digital Film Production Level 5
To find out more about any of these courses contact the Dun Laoghaire Further Education Institute
Website: www.dfei.ie
Course Listings: DFEI Findacourse.ie Course Listings